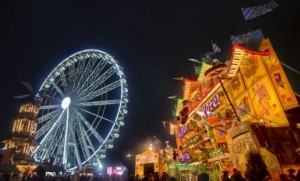 Winter's real fun arrives in London when winter wonderland returns to Hyde Park and transforms the vast park into a fairyland. There are many events like magical ice kingdom, ice rinks, lots of exciting rides, a giant Ferris wheel, shopping at Christmas market, tons of food and drink stalls which attract thousands of visitors every year as it is perfect spot for enjoying with all family and friends.
Date: 20th Nov to 3rd Jan 2016
Venue: Hyde Park, Rangers Lodge, Hyde Park, London W2 2UH
Magical Ice Kingdom:It is a magical world made with tons of ice and snow. Walk through a unique world of impressive ice sculptures mythical animals and even a full size ice castle that you have never seen.
Ice Skating Rinks:Winter wonderland ice skate rinks are the largest open air ice rinks which measures a massive length of 1400 square meters and accommodates up to 400 skaters at a time.
Zippos Circus:It is the biggest circus show in UK with colorful daytime show for family with world class jugglers, silk dance, springboards and for evening crowd, cirque berserk's contemporary thrill show and many high-energy trick shows.
Carnival rides: Wonderland is incomplete without the carnival rides like roller coaster, fun houses carousel, power tower and a thrilling drop ride.
Pre booking may require for some of the attractions and events for that check Hyde Park winter wonderland official site.
Nearest Airports to Hyde Park:
Heathrow Airport: To reach Hyde Park from Heathrow airport, it takes 23 mins approx.
London City Airport: It takes approx 32 mins to reach winter wonderland at Hyde Park from London city Airport.
Luton Airport: It approximately takes 45 mins to reach Hyde Park from Luton airport.
Stansted Airport: From Stansted airport to Hyde Park, it takes approx. 1 hour.
Gatwick Airport:  Approx it takes 1 hour to reach Hyde Park from Gatwick airport.
London Airport Transfers will make you to reach Hyde Park safely.