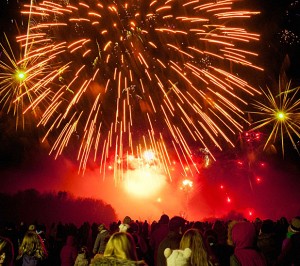 Date: 5th November (Thursday)
November in London begins with magnificent fireworks during the Bonfire Nights. Wrap up and head to capital city of London to view spectacular colors of fireworks display in the skies at some of the London attractions.
Why do people celebrate bonfire nights??
400 years ago in 1605, Guy Fawkes, member of Gunpowder plot, plotted to blow up House of parliament with gunpowder in basement. But Guy was caught and arrested and place before the House of Lords. In celebration of his survival, King James ordered to have Bonfire Night on 5th November all over England.
What people do on Bonfire nights?
During Bonfires, professional fireworks displays are organized in the parks around the cities and towns of London. Some people celebrate bonfire night by lighting small fireworks in their garden to warm up as it is end of autumn and others lighten their fireworks in large communal space. Children burn Guy Fawkes made out of old cloth. Traditional food during Fireworks is potatoes, that are cooked in fireworks and wrapped in foil and is given to the crowd who came to watch fireworks
Where to celebrate bonfire Night fireworks?
Alexandra Palace Fireworks: November 2nd, festival starts from 2pm, fireworks at 8pm
Alexandra Palace is most loved bonfire nights' venue from four years. It is hosting giant fireworks, laser show and music show.It is set to end with a spectacular firework display.

Venue:  Alexandra Palace Way, Wood Green, London N22 7AY
Planning to visit fireworks at Alexandra palace, London city airport is nearer airport to Alexandra Palace. It takes approx 41mins to reach Alexandra palace from London city airport. London airporTransfers will help you to reach the above venue safely.
Lord Mayor's Show Fireworks: 9th November from 5pm
Lord Mayor's show is one of the best fireworks display in London. It is an epic firework display on the Thames and moored between waterloo and Blackfrairs Bridge. Fireworks are visible for miles but for secure spot, it is best to arrive early to get chance to watch from one of the bridges.
Venue: Various places
Best view: Waterloo Bridge, Lambeth, London SE1
London airport transfers will help you to reach Waterloo Bridge from London city airport or Heathrow Airport or Gatwick airport or Stansted airport or Southend Airports safely and provides Hassel free journey.
Crystal Palace Fireworks: November 5th
Crystal Palace Park is setting on for a glorious firework display. This year it is hosting two displays, one for children with fewer bangs and plenty of colors and another main show for grownups. Children's firework display starts at 7pm and main show starts at 8:30pm.
Venue: Crystal Palace Park, Thicket Road, London, SE20 8DT
London Airport transfers  will help you to reach the above location for watching amazing fireworks at Crystal Palace.