Planning to spend your remarkable vacations in London and not sure where exactly you are going to stay?? City of London attracts many tourists with great number of places in and around. Depending upon your budget, city of London provides various facilities for accommodation. Planning to enjoy London's attraction without spending much, then opt for suburban towns of London for stay.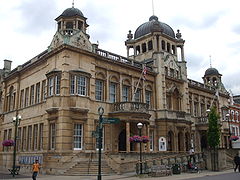 London's largest cosmopolitan town Ilford is situated in Eastern part of London. It may not be the most likely tourist hot spot but it is officially Europe's up growing tourist destinations. Ilford has few attractions to visit with plenty of accommodation options available with all facilities.
Best Hotels to stay in Ilford:
Premier Inn London Ilford Hotel:  
Venue: Redbridge Lane East, Ilford, Essex IG4 5BG
Premier Inn London is a great spot to stay, which is in and around 40 minutes away from central line. The Hotel is with spacious rooms and extra-comfy beds and capacious restaurant. It is modern budget hotel with rooms ranging from singles to doubles to family rooms. Kids under age 15 can eat and stay free with paying adults.
Best Western Ilford Hotel:
Venue: 3-5 Argyle Road, Ilford, Essex, IG1 3BH, England
Best Western is just 20 minutes away from Central London and keeps you within short distance from many attractions and offers of capital. This is straight forward hotel with unassuming rooms, free Wi-Fi and other facilities. Parking is complimentary. Other amenities include a business center, meeting rooms and an on-site laundry. It is 6.4-mile drive from Queen Elizabeth Olympic Park and 9.8 miles from the Tower of London.
St.Georgio:
 Venue: 454 Cranbrook Rd, Ilford IG2 6LL
St.Georgio is a great place to stay with straight forward rooms and suites have tea and coffee making facilities, flat-screen TVs and safes. As it is 0.3 miles away from Valentine's park and is close to many Shopping malls, it is an apt place for tourists with limited budget. Freebies include Wi-Fi in communal areas, limited parking and breakfast served in a traditionally styled dining room. There's also a colorful, modern cafe-bar, plus a function room.
Things to do in and around Ilford:
Redbridge Museum:
Venue: Clements Rd, Ilford IG1 1EA
Redbridge Museum at central library exhibits wonderful range of information about history of Ilford. It displays hundreds of fossilized bones that are also displayed at Natural history Museum and British Geological Survey and which returns back to Ilford. It gives a chance to visitors to learn more about ice age by hearing sounds and voices which helps to experience what it was like to live in Redbridge past.
Valentines mansion and park:
Venue: Emerson Rd, Ilford, Essex IG1 4XA
A delightful mansion at Ilford's Valentine's park was built in 1690's and is beautifully restored. Entry is free of charge and visitors can see many principle rooms of house which represents different eras of history. Ground floor contains wall to wall glass cases which is truly magical!! Valentine mansion is the place where quality time can be spent with family and special events can be enjoyed. It also has a traditional Victorian rose garden.
Ilford Lane:
Venue: Ilford Lane, Ilford, London IG1 2SN
Ilford Lane is a Red bridge's Aladdin cave tucked away in south of district. It is the area of shopper's paradise with high streets and malls. It reflects the multi-cultural character of Redbridge with attractions at Lower price.
Fairlop Waters:
Venue: Forest Road, Barkingside, Ilford, Essex IG6 3HN
A beautiful Fairlop Waters is one of the biggest country parks in Ilford. Fairlop Waters has amazing facilities like two golf courses, wind surfing, Two fishing lakes, a radio controlled car track, a bar and fabulous Indian restaurant.
Ilford Nearest Airports Information:
London City airport: London City Airport is the nearest airport to Ilford, which is 6.4 miles away from Ilford and it takes approx. 16 min to reach London city airport from Ilford.
Stansted airport:  Stansted airport is 28.3 miles away from Ilford and it takes approx. 33 min to reach Ilford from Stansted airport.
Heathrow airport: Ilford to Heathrow airport takes approx. 1hr 5mins. Heathrow airport is 33.1 miles away from Ilford.
Southend airport:  From Ilford, Southend airport is 35 miles away and it takes approx. 51min to reach Southend airport from Ilford.
Gatwick airport: Ilford is 51.7 miles away from Gatwick airport and it takes approx. 1hour to reach Ilford from Gatwick airport.
Luton airport: Ilford is 50 miles away from Luton airport and it takes approx. 55min to reach Ilford from Luton airport.
Our London Airport Transfers provide its services to and from all major airports to Ilford with wide range of executive cars. Hire our premium car service for hassele-free and comfortable Airport Transfers.