Hire a Executive Car from London Airport to London Eye
The London Eye, one of the most Iconic landmark in the capital city and one of the UK's popular visitor attractions. It is a giant Ferris wheel that takes you on a magic carpet ride above one of the most famous cities on Earth and it is situated on the south bank of the river Thames in London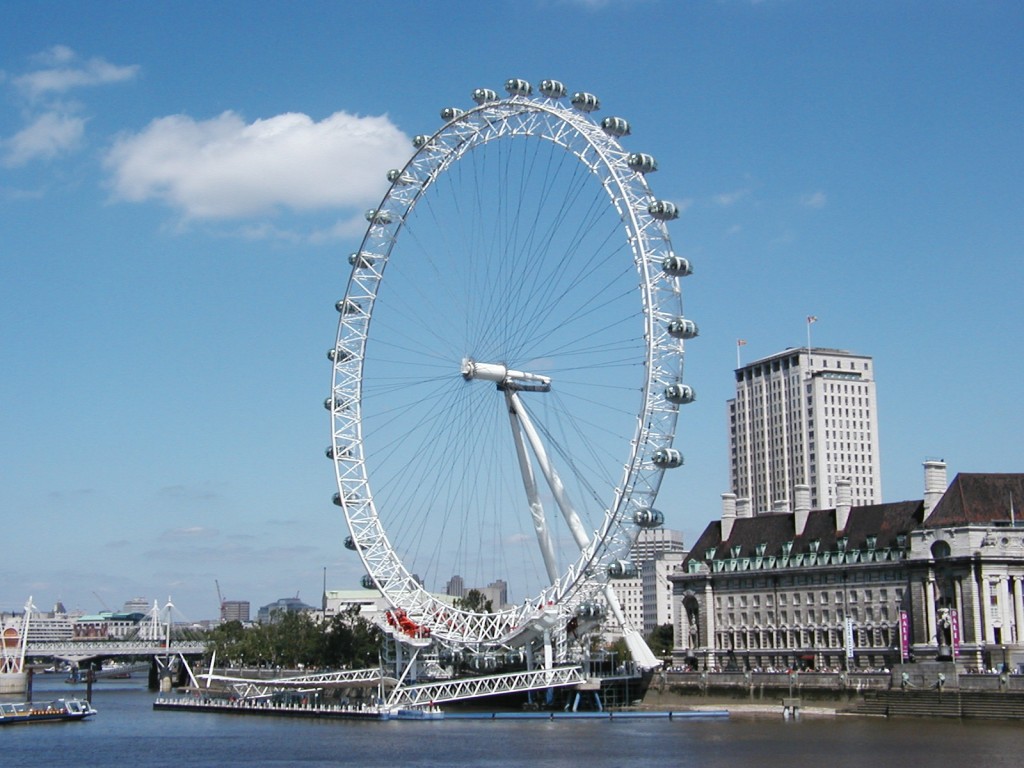 Facts in London Eye:
The millennium wheel or tallest Ferris wheel in UK, it was designed by seven architects and constructed over seven year period.
The London Eye has changed its official names over time from its first name as British airways London Eye, to the Merlin Entertainments London Eye, to the EDF London Eye to its current name of the Coca Cola London Eye.
The London Eye or millennium wheel is 135 mts-443ft tall and it is 120mts-394ft wide. Over average 3.75 million people visit the London eye each year.
London Eye weighs in at an enormous 21,000 tones. The total cost of London Eye was £70 million.
One complete rotation of giant Ferris wheel takes 30minutes, each capsule moves at 26cm per second.
The attraction is composed of 32 capsules, each represents the borough of London But they skipped unlucky number 13 so they are numbered to 33 and each capsules can carry 25 people.
How far can we see? and what can we see?
On a clear day you can see for up to 25miles, which is all the way to Windsor castle. From London Eye you can Big Ben, Houses of parliament, Bucking palace, Westminster Abbey, Tower Bridge, London Bridge Canary Wharf, Olympic park, Windsor Castle.
What's New in London Eye?
Tickets now includes free admission to a 4D movie Experience featuring the London Eye. It's good, actually one of the great 4D presentations all over the world. It won't give away the surprises, but make sure you don't miss it!
When to Book Tickets?
It's better to book tickets in advance and standard ticket holders are advised to join the queue 30 min before the scheduled departure time. Customers with Expensive fast track tickets can join a priority queue about 15mins before the departure time.
Themes of Private capsules:
Cupid capsules:
The spectacular views of London Combined with champagne and chocolates makes the prefect romantic date for special one.
Private Capsule:
You can hire a capsule exclusively for your family and friends. It is the ultimate way to experience the 360° views of London for 30 min rotation.
Hotel Chocolate Tasting Capsule:
It is the best way to taste, Explore and enjoy Chocolate. Experience your Love of chocolate to the new heights with exclusive Guided Chocolates. Chocolate tasting capsule offers in conjunction with Hotel Chocolate includes two glasses of Prosecco and goodie bag.
Tasting Capsules:
Guided by your expert, enjoy an hour tasting five stunning Pommery Wines or Champagnes from high above the city.
Dining at 135:
It is truly fabulous dining experience to accommodate a table of up to eight guests in one capsule, where Coca cola London Eye will be exclusively opened for you out of hours.
How to get to London Eye?
The London Eye is Located on South Bank of the River Thames on the other side from the Houses of parliament at the bottom end of Jubilee Gardens. You can find the ticket office inside the County Hall, next to London Eye.
Venue:
The EDF London Eye, Riverside building, County hall, Westminster Bridge Road, London SE1 7PB
There is an ample opportunity to make your way to London Eye, there are number of Underground stations within reach of London Eye, You will find Westminster, Embankment and Charring cross are all within short walking distance, You can also find National train services at London Waterloo and Waterloo East station, there is an opportunity to hire a car from Private transfer services which provides safe and reliable journey.
Which airport is closest to London Eye?
London City airport: It is the closest airport to London Eye. From London city airport to London Eye it takes 33minutes and it is 8.7 miles away.
Heathrow airport: Approx. it takes 44mins to reach London Eye from Heathrow airport as it is 18.5 miles away.
Gatwick airport: Gatwick airport is 29.3miles away and approx. it takes 1hr 15mins to reach London Eye from Gatwick airport.
Southend airport: It takes approx. 1hr 15mins to reach London Eye from Southend airport, it is 41.7 miles far from London Eye.
Luton airport: From Luton airport to London Eye it takes approx.1hr 10mins to reach and it is 35.6 miles away from London Eye.
Stansted airport: It is 39.1 miles far from London Eye and it takes approx. 1hour to reach London Eye from Stansted airport.
Our London Airport Transfers provides their services to London Eye from all major airports of London. Providing 24×7 Executive car services.
For more information about opening times and ticketing, Visit the London Eye Website.