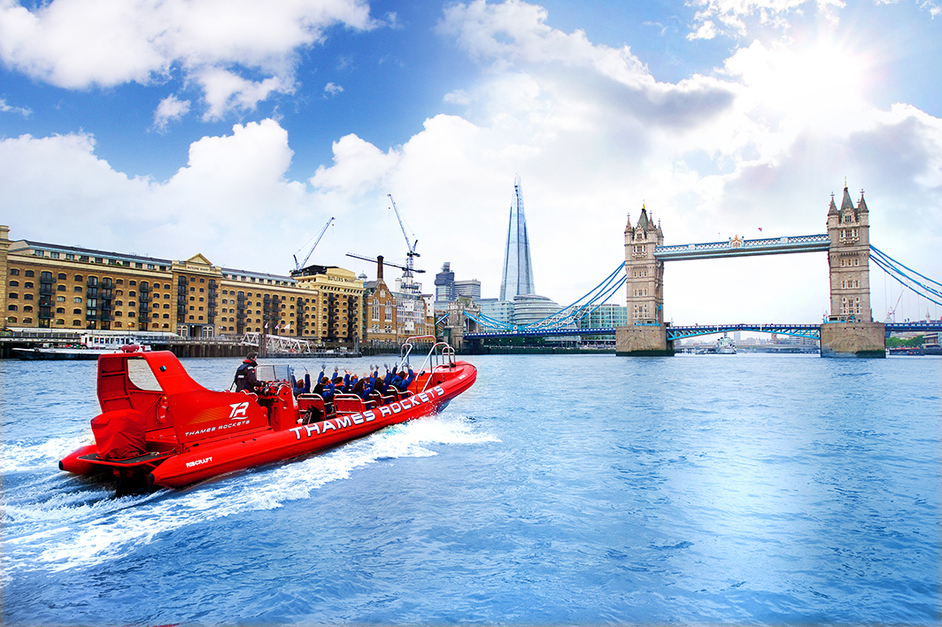 Planning a trip to London and eager to look around all the attractions of London in short span of time?
Confused with where to go and what to do and you don't want to go with standard tours of bus ride?
Looking for something interesting and unusual, then here it is, London RIB voyages.
London RIB Voyages is an original, fastest and newest thrilling way to see London. Thames tour offers
the ultimate London sightseeing experience little differently and little faster at up to 35 mph.
It is suitable for all age groups and makes an ideal trip for families, friends, Couples and corporate
groups. It is a breath-taking experience where you can feel the wind in your hair and take life long
memories with you while enjoying sights and sounds of London City.
Meeting Point: The London Eye Millennium pier, Westminster Bridge Road, London SE1 7PB
Adventurous Tours with London RIB voyages:
So this winter get ready for the adrenaline rush with the fun filled adventurous tours with London RIB
Voyages.
The ultimate London Adventure:
It is the one that started it all, Jam-packed fun filled tour with Thames Rockets. But remember to hold on
tight as you are going to fly through the most famous attractions of Capital city London. It is a 50 min
ride with 22 site points that will leave you with the feeling of taking it again and again.
Lime House Blast:
Impress your date or soul mate with your own exclusive speedboat at world famous London Eye. You
need to hold on tight with speediest start to your Friday Night! Twists and turns at 35 mph across dark
docklands with music pumping from inboard speakers. Your final destination is lime house pontoon
exactly at the time for dinner. You can enjoy delicious courses with glass of champagne at the narrow
place by the Gordon Ramsay Group with an elegant setting and panoramic view across Thames. It is a 30
min ride with 20 site points.
Thames Barrier Explorer Voyage:
80 min Thames barrier explorer voyage is the best choice for adventurous of daredevils. Departing from
London Eye, it covers every major sight that Thames offers. RIB voyages provides award winning guides
spicing up your trip and music powering up you through the capital. This 80min and 28 site point's trip
with 30 mph  will leave you both shaken and stirred!!
Break the barrier:
It is the fastest and furious trip where there is a little chance to catch your breath. With 12 meter long
aero dynamically designed fiberglass, Thames Rocket will twist and turn its way to Tower Bridge, Canary
Wharf, Greenwich and the O2 Arena. There will be plenty more of music and memories along the way of
40 mins Thames barrier tour.
Captain Kidd's Canary Wharf Voyage:
Canary wharf voyage especially for families, Kids can have fun with swishing and swooshing over most
famous waterway at an exhilarating 30 mph. Everyone are wrapped up warm and dry with top notch
sailing gear. With super cool music and stories, kids will rock and roll for 50 min which will last with you
for lifetime.
London Airport Transfers are going to provide their services to reach the meeting point of London RIB
voyage at London Eye from all major airports of London. We provide Luxurious services with executive
cars to reach the venue comfortably.
Nearest airports London RIB voyages:
Heathrow airport: It takes approx. 44 min to reach meeting point of London RIB voyage at London Eye
from Heathrow airport as it is 18.5 miles away.
Gatwick airport: Approx. it takes 1hr 16mins to reach London Eye from Gatwick airport; it is 29.3 miles
away.
Stansted airport: To reach London RIB voyage meeting point it takes 1hr approx. as Stansted airport is
39 miles away from London Eye.
Luton airport: From London Luton airport it takes 1hr 10mins to reach London Eye, it is approx.
35.8miles away from London Eye.
London City airport: London Eye is approx. 8.7 miles away from London city airport. It takes approx. 33
mins to reach venue of London RIB voyage from London city airport.
Southend airport: To reach London Eye from Southend airport, it takes 1hr 15mins and it is 41.7 miles
away from London Eye.
For more information about London RIB Voyages visit http://www.londonribvoyages.com/