Did you ever experience the sights and sounds of land and river without leaving the comfort of your seat??? London Duck tours will bring you such experiences, like amphibious adventures. It is a unique way of sightseeing on land and river through Thames.
Every individual of ages three to ninety-three will have fun. Let it be any family outing or corporate events like small product launches. It will help in building team spirit. These Duck Tours can also be offered as rewards for staff incentives.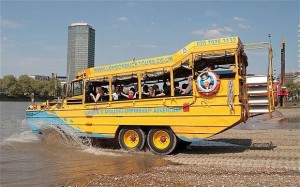 Duck Tour's Highlights:
• All scheduled tours leave from Chicheley Street, SE1 7PY, which is near to the London Eye.
• Fleet of 9 vehicles is modified to meet the stringent safety regulations set by the road and river authorities.
• Each vehicle will have 30 passenger seats, professional tour guide, watermen, driver and safety equipment.
• Special theme based tours can also be arranged.
Classic Sightseeing Tour:
It's not just sightseeing tour; it is a unique way to experience spectacular sights and sounds of Central London. Starting from the millennium landmark of city, the London Eye, the tour leads you to many famous places and splashdown onto the Thames! This tour can be a corporate hire, Educational purpose or for any other celebrations.
Tour duration: Approx 75 minutes
James Bond Tour:
Scheduled time: 3rd Sunday of every Month
It is a fun filled journey through the spy's favorite haunts around the capital on both road and river. James Bond tour will take you through many locations of city that are seen in Classic Film series. Character guide with very soft voice will lead you on an adventurous and thrilling tour. It is going to be a journey of intrigue and espionage! It will show you the place where Ian Fleming lived and fascinating facts about James Bond's style. On tour you can also examine a dossier of top secret archived pictures related to Bond in London. Finally, never say never again, as you launch into the river, Bond-style, alongside MI6!
Celebrating the release of Latest James Bond film Spectre, James bond tours will be running on 16th, 18th, 24th, 25th, 26th, 27th, 28th, 29th, 30th, 31st October and 6th, 7th, 13th, 15th November.
Tour duration: Approx 75 minutes
D Day Duck:
Scheduled Time: 1st Sunday of every Month
An informative, fun filled tour for kids and family activities character tour guide will take you to London's famous Second World War sights including St Paul's Cathedral, Cabinet war rooms, Buckingham Palace, and key events of London blitz and takes you to river and reveals you the boats vital role through splash downing into Normandy beach.
Tour duration: Approx 75 minutes
Pirates of Westminster:
Pirates of Westminster is a treasure hunt tour through land and river that takes to landmarks of London and challenges you to solve both on and off the good ship Moby Duck.
It is a team building trip which brings out inner pirate, encourages communication skills and builds a spirit of team work. The only way, to solve the pirate themed challenges and to snatch the treasure from opponent, to combine your strengths and work together!
Tour duration: 2 ½ – 3 hrs
Pirate Adventure: (For Children aged 7yrs and above)
Pirate Adventure is truly fun filled and memorable way to mark special occasions for children aged 7years and above. With a pirate crew, you will be taken to amazing sights of London and the sounds of river Thames whilst solving a series of fun pirate themed challenges. So grab your eye patch, strap on your best parrot and prepare for the journey of a lifetime!
Tour duration: Approx. 75 minutes
Code Breaker challenge:
It is a fun code breaking challenge which will sparkle your team work. It will be operated through secret tunnels, underground networks and garden sheds. It would be your challenge to work as teams of code breaking masterminds to crack the secret code and stop evil adversaries from stealing the tourist attractions of London.
Tour duration: 2 ½ – 3 hrs
City Tour:
It is offered during special Events and when road closures divert the way of Westminster route. It passes through the renowned landmarks of London.Firstly it sweeps to Thames from waterloo bridge,convent garden along with elegant fare of fleet street, royal court of justice and then over London bridge and many more landmarks and splash downs at MI6! No trip is better than this as it covers all the renowned landmarks in capital of London. It can be recommended for Educational and corporate Events.
Tour duration: Approx. 75 minutes
Timings:
Tour operates at every 30 minutes to 1 hour during week days and every 15mins in weekends and peak times like public holidays. Last trip of day depends upon sunset. For Weekends and holidays pre booking is necessary at least 2-5 days in advance.
Time Duration Includes:
• 45-minute road tour on the Duck truck
• 30-minute river cruise on the amphibious Duck truck
Meeting Point:
Duck Stop, Chicheley Street, SE1 7PY, London, which is near to the London Eye.
Airports to London Duck Tours Venue:
• London City Airport: From London city airport to London duck tour's venue it takes approximately 1hour.
• Heathrow Airport: It takes approximately 1hr 30mins to reach London duck tour's venue, from Heathrow airport.
• Gatwick Airport: It takes approximately 1hr 42mins from Gatwick airport to London duck tours.
• Luton Airport: To reach London duck tour's venue from Luton airport it takes 1hr 49mins.
• Stansted Airport: From Stansted Airport to London duck tour's venue, it takes 2hrs 25mins.
• Southend Airport: Approximately it takes 2hrs to reach London duck tour's venue from Southend Airport.
LondonAirporTransfers team will guide you about reaching to London Duck tour's venue safely from all the above airports in London. We wish a comfortable and hassle-free journey for passengers/travelers to reach the desired venue, so that they could start the tour without any trouble and enjoy this unique sightseeing approach.