Christmas Day can be a magical time to explore the London's capital city. The sparkle of London Christmas lights to give the city an instant festive makeover around the city. Plan your outing to look at the Beautiful Christmas Lights in London or Christmas Shopping or Ice Skating. Here we have listed some of the top highlights in London this Christmas. London airport transfers are going to provide its services 24*7 during festive season of Christmas.
Trafalgar Square Christmas Carols & Tree
Location: Trafalgar Square, Central, Westminster, London, WC2N 5DS
Website: https://www.london.gov.uk/about-us/our-building-and-squares/christmas-trafalgar-square
Date: 1st December 2016 to 5th January 2017
In London, the countdown of Christmas starts with the lighting of the world's most famous Christmas tree at Trafalgar Square. It became the highlight of Christmas in the capital city. Every year it lighten up with traditional ceremony hosted by the Lord Mayor of Westminster and the British ambassador to Norway and the Mayor of Oslo. Since 1947 people of Norway gifts London a Christmas tree in gratitude for Britain's support for Norway during World War II
Christmas tree beautifully decorated in a traditional Norwegian style lighting up on 1 December illuminating the 25-metre tree with around 900 light bulbs set in vertical strings of light. It remains at Trafalgar Square until the Twelfth night of Christmas and it is taken down for recycling. The tree is chipped and composted, to make mulch.
Enjoy the magical atmosphere of Christmas festivities. As the lights switch on, there will also be Carol singing led by Norwegian singer Siliva Moi and the choir of St Martin-in-the-Fields who will sing O Holy Night. Our London airport transfers provide its car services from all major airports.
Oxford Street Christmas Lights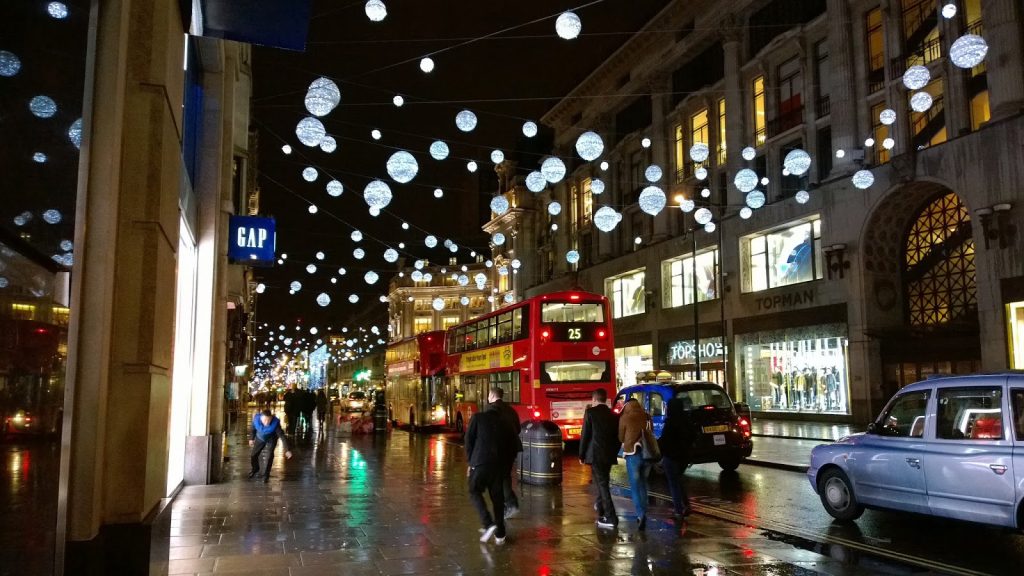 Location: Oxford Street, Marylebone, London, W1C 1JN
Website: http://www.oxfordstreet.co.uk/
Date: 6th November to 31st December 2016
Countdown to Christmas has already been started at Oxford Street this year lights were turned up by the DJ legend Craig David on 6th November. Children's Charity NSPCC hosted the 57th annual festival presenting a fun-filled family festival with an exciting interactive activities along the street, crafts, face painting, workshops and street food festival. The snowball-like decorations and 750,000 LED light bulbs are lightened up and it will there to stay, brightening up the street for the rest of the festive period.
Make sure don't miss out the lightening at the Oxford Street during the festive period. Our executive car services are available to reach Oxford Street safely from all airports of London.
Carnaby Christmas Lights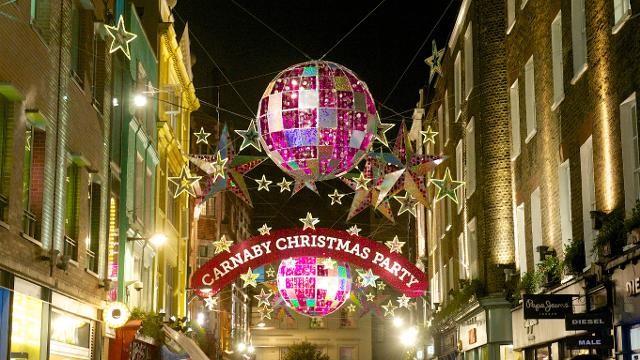 Location: Carnaby Street, Soho, London, W1F 7DN
Website: https://www.carnaby.co.uk/news-and-events/
Date: 1st December 2016 to 5th January 2017
Carnaby Street Christmas lights take place on 10th November 2016 launching their Christmas party. Carnaby Street boasts fun and quirky decorations, with oversized robins and snowy mustaches among previous offerings, so you can expect an outlandish showcase.
This Year, the inspiration for Carnaby's Christmas lights comes from the V&A's new exhibition and themed by 'Swinging Sixties'. It hosts over 100 fashion brands, restaurants and bars plenty of street entertainment. Carnaby Christmas decorations are usually among the most distinctive ones in town and will remain on display until January 6. Book our airport car services for an safe and comfortable journey to reach Carnaby Street.
Covent Garden Christmas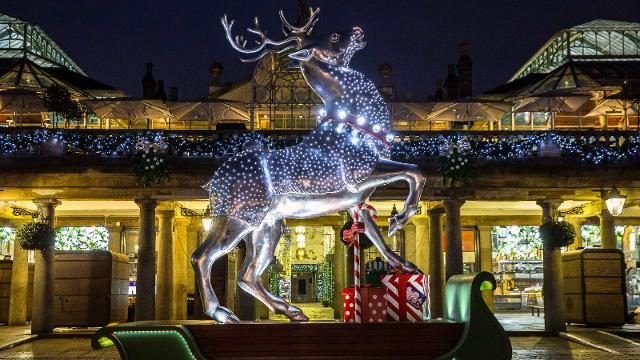 Location: Covent Garden Piazza, Covent Garden, London, WC2E 9DD
Website:  https://www.coventgarden.london/christmas
Date: 15th November 2016 to 2nd January 2017
Covent Garden is one of the London's magical areas of Christmas lights, lightened up on 15th November with mistletoe for the romantics and a LEGO installation for families. With over 45 mistletoe chandeliers hanging, adorned with almost 700 glistening berries and 80,000 pealights are lit up. Notorious for its festive lighting extravaganzas over the area's streets and in the pretty market buildings. It's made of 500,000 Lego bricks and even has sounds, lights and smoke coming from its funnel.
At Covent Garden huge Christmas tree glows with lights on the west side of the square, and a rather magnificent silver reindeer stands majestically on a pile of gifts on the east side. You can expect fun and digitally enhanced immersive shopping experiences from world-class brands across beauty, fashion and accessories
Our airport car transfers offer its services from all major airports to Covent Garden and provides you to an enjoyable ride.
Regents Street Christmas Lights
Location: Regent Street, Soho, London, W1B 5SJ
Website: http://www.regentstreetonline.com/events
Dates: 17th November to 31st December 2016
This year's Regent Street Christmas lights are set to be the street's most ambitious Christmas illuminations ever inspired by The Spirit of Christmas" theme on the roads of Central London. The designs are a modern reimagining of the very first Regent Street Christmas lights from 1954. Set to be bigger and more twinkling than ever, the stunning showcase will light up the whole of W1, making the biggest parade of Christmas lights. Lights are switched on by Holly Willoughby and including 16 large Spirits with a 17-metre wing span and 15-metre train of lights stretching behind. There are be 300,000 glistening LEDs
The Regent Street has a great, festive atmosphere and the lights are set off beautifully until 31st December. So don't miss a chance to watch modern Christmas lights in Regents streets. London airport transfers are providing its services from all major airport terminals.
Seven Dials Christmas Lights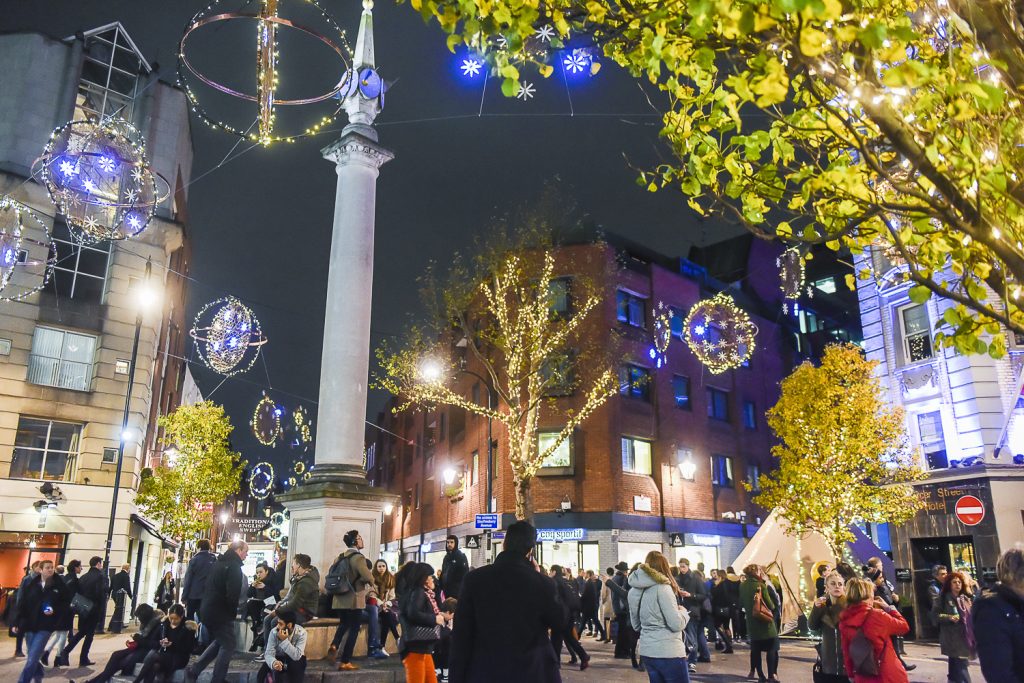 Location: Seven Dials, Monmouth Street, London, WC2H 9DD
Website: https://www.sevendials.co.uk/events/seven-dials-christmas-2016/
Date:  17th November 2016
Seven Dials has launched its Christmas Lights installation with an exclusive 4D experience themed to look like woodland creatures, bringing to life a fascinating forest scene on the traffic-free streets, complete with celebratory activities for the whole family.
The Celebrations at Seven Dials offers an exclusive Christmas shopping event where you can enjoy discounts, deals, and experiences in more than 100 shops, restaurants, bars and cafés in the area. Spot them at Monmouth Street. Our airport car services are available to Monmouth Street at affordable prices.
Book your car at London airport transfers in advance to ensure safe and reliable journey. Our   airport car are available 24*7 during Festive time. We offer a wide fleet of cars to you and your family. Whether you travel in a group or individual we have a car of your choice as per your requirement. We offer our executive car services from all major airport terminals includes Heathrow, Gatwick, Southend, Stansted, Luton and London city airport to all the above Streets for viewing highlights of Christmas Lights in the capital city.