One of the London's iconic landmarks, Palace of Westminster, a prominent feature of the capital's spectacular skyline. The House of Parliament houses universally known clock tower, 'The Elizabeth Tower' at the Palace of Westminster, which is a popular attraction of London, visited by thousands of visitors every year. The clock tower looks spectacular at night when all the four faces of the clock are illuminated. While planning your trip to London, Big Ben is one among the attractions which must visit place.
Book our premium London Airport Transfer services to and from all major London airports.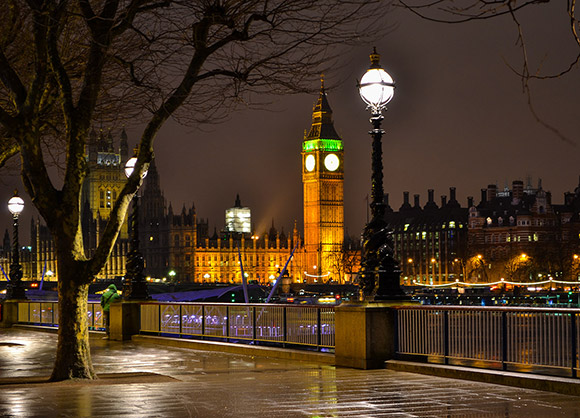 Address: Westminster, London SW1A 0AA
Website:  http://www.parliament.uk/bigben
What is Big Ben?
Big Ben, an impressive structure of London's landmark and one of the must see attractions in capital city, is a combination of The House of parliament and Elizabeth Tower. Big Ben is the name of massive bell inside the clock tower.  It occupies 40 square feet and stands at an imposing height of 320 feet. Big Ben is a Symbolic status, as the light above the clock shines whenever the Parliament is in session, indicating the functioning of the British government.
History of Big Ben
A shocking fire in the year 1834 destroyed the Old Place of Westminster. This lead to the construction of one of the classic attraction of the capital city. The construction of the clock tower began in 1843 and the foundation stone was laid. A competition was declared to find out the appropriate designs for a new palace of Westminster. Charles Berry was the successful architect who had included a landmark clock tower as a part of his design. It took 13 years to complete the structure. The clock tower is actually a little slanted and leans slightly towards the northwest at Palace of West minister, by 8.66 inches.  In the year 2012, a decent tribute was made to the Queen Elizabeth II on her diamond jubilee year, by renaming the clock tower as the 'Elizabeth Tower'.
How to Visit inside Big Ben?
The Clock tower is not open for general public, Londoners can visit clock tower by writing to their MP. Applications should be written, as far in advance as possible. It is not possible for foreign visitors to visit the clock tower. Instead, take a tour of the Houses of Parliament and to The Elizabeth Tower. Six million people visit London each year, and most of them will visit Westminster to see the clock tower.

Facts about Big Ben
Big Ben is the popular name of the huge bell, but most people use it to refer as the clock tower. It is the world's largest chiming clock with four faces.
It is the third tallest free-standing clock tower in the world.
Age of Big Ben is 151 years. It was casted on 10th April 1858, and the Great Clock started working on 31st May 1859 and Big Ben first chimed the hour on 11th July 1859.
Big Ben chimes every 15 minutes and the sound can be heard for a radius of up to 5 miles.
The diameter of each of the clock's dials is 23 feet. The hour hands are 9 feet long, the minute hands are 14 feet, and the numerals are 2 feet. Each clock face has an inscription in Latin in gold. Each clock face contains 312 panes of glass, making a total of 1,248 pieces of glass.
Big Ben has no lift! There are 290 steps up to the clock room and total 340 steps to the belfry.
Every year British Pennies are used to adjust the time in London's Big Ben clock tower. If the clock is running fast, a penny is added to the pendulum. If the clock is running slow, a penny is removed from the pendulum. The clock gains 2/5 of a second a day from each penny added.
On Remembrance Day, the chimes of Big Ben are broadcasted to mark the 11th hour of the 11th day of the 11th month.
On the eve of the New Year, the clock tower is the main focus of celebrations in the United Kingdom, with radio and TV stations tuning to its chimes to welcome the start of the year.
Nearest airports to Big Ben
Big Ben located at Westminster, has an easy access and transportation to and from all major airports. London airport transfers offer safe and reliable executive car services to the visitors. We provide services from airports including Heathrow, Gatwick, Southend, Stansted, Luton and London city airports. Book our airport cars services, available for 24*7 a day and 365days a year. Whether you are travelling in a group or individual we provide our car services and guide you to reach Big Ben. We have a wide range of executive cars as per our customer requirement. Our services are available at affordable prices. Pre-Book our services to reach Big Ben from all major airport terminals.
London City airport to Big Ben
From London City airport to Big Ben, it takes 40mins to reach and it is 8.8miles away from Big Ben via A1203 and A3211.
Heathrow airport to Big Ben
To reach Big Ben from Heathrow airport, approx. it takes 59mins as it is 19.4miles away from Big Ben via M4 and A4.
Gatwick airport to Big Ben
It approx. takes 1hour 23min to reach Big Ben from Gatwick airport and it is 27.4miles away from via M23 and A23.
Southend airport to Big Ben
The distance from Southend airport to Big Ben is 41.6miles via A13 and approx. it takes 1hour 23 mins to reach.
Stansted airport to Big Ben
Big Ben to Stansted airport approx. it takes 2h 13min and it is 39miles away from Big Ben via M11
Luton airport to Big Ben
Approx. it takes 1h 7min to reach from Big Ben to Luton airport and it is 34.6miles away from Big Ben via M1.