Date: 15th December to 21st December 2015
Venue: Olympia Grand, Hammersmith Road, West London, W14 8UX.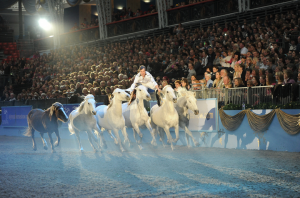 It's time for Olympia Horse show!! Biggest International Horse show with 400 sets of four Legs return backs to Olympia Grand. The equine world's annual party will be attended by internationally acclaimed riders, gold medalists and many horse lovers from all over the country for world cup competition, remarkable displays, entertainment, shopping and festive fun.
Olympia, the London International Horse Show, a popular fest, takes place in United Kingdom during late December and arrival of Christmas. The show is typically held for seven days with world Class dressage, the fantastic Shetland Pony Grand National. In 2015 main displays will include the breathtaking musical ride of Household cavalry mounted regiment, liberty horseman jean-Francois Pignon and the famous Olympia finale.
Shopping village with both festive and equestrian accessories makes you to get into festive spirit. It's apt to grab last minute Christmas shopping gifts for your loved ones. Olympia provides activities for all family members as well as the riders of all levels regardless of your preferred equestrian sport.
London AirporTransfers provides their services to reach Olympia horse show from all the major airports in London. For hassle-free and comfortable journey to reach the venue of Olympia Horse Show, people prefer London Airport Transfers' services from all the airport terminals of London.
Why waiting? Plan your visit to Olympia horse show today.
Olympia from London Airports:
Heathrow airport: From Heathrow airport to Olympia, London it takes 35mins approximately.
Gatwick airport: It takes approximately 1hr 20mins to reach Olympia Grand from Gatwick airport.
Stansted airport: Approximately it takes 1hr 45mins from Stansted airport to Olympia Grand.
Luton airport: From Luton airport to Olympia, it takes approx. 1hr 14mins to reach
London City airport: To reach Olympia Grand from London city airport, it takes approx. 1hr 4 minutes.