London City airport is one among the six airports with International Connections in London. Young airport claims a close proximity around 6miles (9.6kms) from center of London and near Canary Wharf. London City airport (LCY) is the closet airport to city center and ideal for business travelers and other travelers who have less time. It has one terminal from which over 3 million of passengers fly to over 30 European destinations each year.
Address: Hartmann Rd, London E16 2PX, United Kingdom
Website: http://www.londoncityairport.com/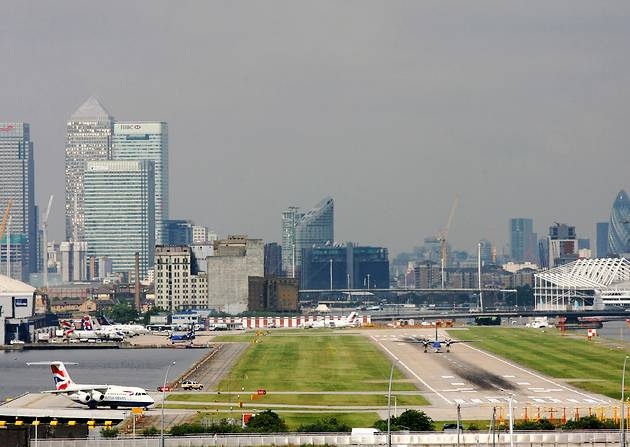 Opening Hours:
London City airport remains open for 24 hours in a day and 365 days a year.
About London City Airport:
Established: 1986
Operator: London City airport Ltd.
Terminals: Single Terminal
Airlines and Destinations:  London City airport serves 11 airlines operating to different destinations.
Services and Facilities at London City Airport: 
Information desk is located towards left side of the terminal building.
Cash Machines are available at Landside and Airside. Bordeaux de change and ATMs are located within the terminal building before and after the security screening areas.
Free Wi-Fi access is available for all the passengers throughout the terminal. Internet Kiosks are also available at departures, for passengers who are not carrying mobile devices with them and for last minute document procedures.
There are several restaurants and bars in the airport, Pret a Manger, before security which offers sandwiches, and there's a choice of outlets located in the departure lounge. Cafe Nero and Presto serve hot and cold drinks and snacks, whilst Trattoria offers Italian food all day and Bar Ten28 is the place for pre-flight drinks, with its extensive bar service.
London City airport offers a left luggage service that allows you to store your luggage at airport safely until you return. Left luggage facilities are available at a charge £ 10 per item for 24 hour of period. Passengers can log their Information at the desk. The left luggage room is situated in security zone A behind the desks.
There are no special lounges available inside the London city airport terminals.
London City airport ensures comfortable and hassle free journey to their disabled passengers by providing special assistance like wheelchair ramps, restrooms and telephones and also special seats are available for disabled.
London City airport provides shopping sources at both the terminal concourse, before security and duty free shopping in the departures areas after security.  London city airport has WH smith stores, both before and after security for last minute essentials such as magazines and other travel related goods. Whilst Nuance offers a range of tax free items. Travelers can save money on a selection of wines, spirits, tobacco, cosmetics, fragrances, confectionary, toys, jewelry, watches, sunglasses and luggage, and there's also the chance to stock up on diamonds, at the renowned jewelers, Gassan.
Transportation to London city airport:
London City airport is ideally located near the Greater London which takes not more than 30 minutes to reach from airport. London Airport Transfers are one among the best private car hire services which provides comfortable and convenient journey to reach your required destination at affordable prices. Book an executive car from London Airport Transfers among range of cars available, which suits you. Just sit back and relax knowing that you will be at the airport soon.
London City Airport Nearby Attractions:
Following are some of the nearest attractions in and around London City airport
Explore the London city by hiring transport services from London Airport Transfers to reach any destination in and around London from London City Airport.