Heathrow airport is one among the largest and busiest airports in London. It is the sixth busiest airport in the world. It is located 14 miles to the West of Central London with 190,000 passengers arriving and departing every day and is linked to city with various road networks.  Heathrow airport has four operational terminals and a cargo terminal covering area of 12.27 square kilometers. Here we have provided information about Heathrow airport contact details, terminal facilities, transportation facility and nearby hotels.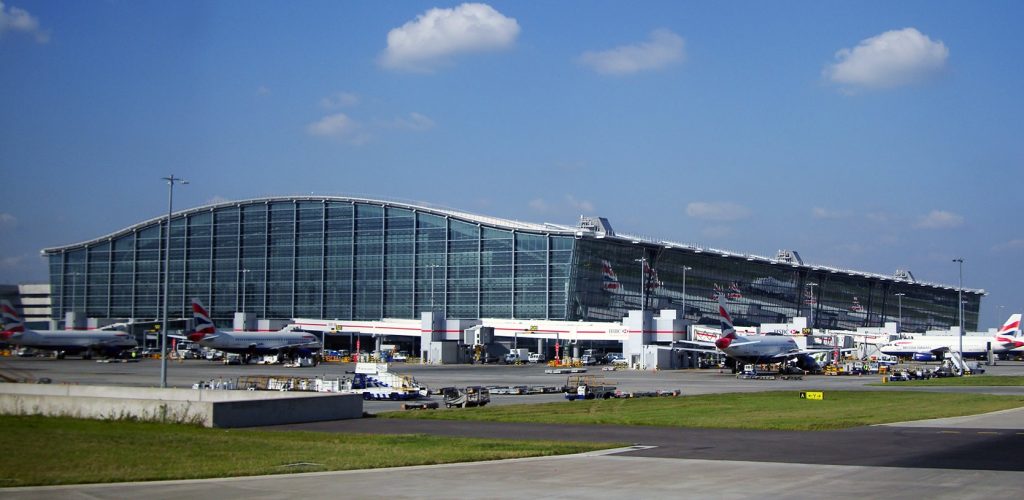 Address:The Compass Centre, Nelson Road Hounslow, Middlesex, TW6 2GW
Website: http://www.heathrow.com/
Airport Facts
Established: 1929
Operator: Heathrow Airport Limited
Owner: BAA Limited
Terminals & Runways:  It consists of 5 terminals & 2 Runways
Airlines & Destinations:
From Heathrow airport 80 airlines are operating fleet over 185 destinations in 80 countries.
Heathrow airport terminals
Heathrow airport has four terminals and one cargo terminal.
Terminal 1 was established in 1968 and closed in 2016 for expansion of terminal 2 site.
Terminal 2, popularly known as queen's terminal is now capable of handling 1.2 million passengers annually. A total of 316 million passengers passed through the terminal in its lifetime.
Terminal 3, the oldest terminal of Heathrow airport, known as oceanic terminal and is the home of long-haul airlines.
Terminal 4, smallest terminal of Heathrow located on the Southern edge next to Cargo terminal and it is mainly used for long-haul and European flights.
Terminal 5, it is one of the best terminals in the world today.
Transfer between two terminals
Fast, convenient transfers are available between Heathrow's all terminals. Terminals 2 and 3 are a short walk from each other. Terminals 4 and 5 are served by free trains and buses.
 Information & Help desk
Information desks are available at every terminals of Heathrow airport.  Located at arrival areas of Terminal 2, 4 and 5 and check-in area of Terminal 3. Courtesy telephones are available for 24/7 service when information desks are closed. Help points are equipped with airport maps to communicate with porters.
Facilities at Heathrow airport terminals
Money
Bureau de change facilities are available at all terminals. ATMs are available at various points within the terminal, building both pre and post security.
Food
Heathrow airport houses 48 restaurants offering great breakfast, healthier food, coffee shops to relax, family favorites and pubs & bars throughout all terminals.
Communication
For all Heathrow passengers it provides various means of communication. Internet access is available via paid service for wireless. It is available for free for first 45mins and if you are a Heathrow member, you can access it for 90 minutes for free. Card and coin operated public telephones can be found at main areas of each terminal. Postboxes and stamps are available in every terminal and post office is at terminal 3.
Luggage
Left-luggage offices can be found in each terminal, while lost property can be regained from the Airport Lost Property Office in Terminal 3. Baggage trolleys are available free of charge in baggage reclaim and other key areas.
Shopping
There is a wide variety of shops in each terminal, including duty-free outlets (for those travelling outside the EU), electrical shops and newsagents. Those looking for the latest in fashion can peruse the various boutiques by British and international designers.
There are lots of things to do at the airport before your flight departs. Whether it's Duty Free shopping, relaxing in the lounges, picking up last minute essentials, keeping the children entertained or catching up on emails using the free Wi-Fi, you can certainly make the most of your time.
Other facilities
Other facilities at London Heathrow Airport includes prayer rooms in each terminals, a Christian chapel at Terminal 3, showers (post-security in Terminals 3 and 4), spas (in Terminal 3 and Terminal 5) and an art gallery (Terminal 5). Medical Help is available at all terminals of Heathrow airport.
Facilities for disabled
Special assistance is available for disabled passengers throughout all terminals of Heathrow airport. Among the facilities are wheelchair-accessible telephones, reserved seating and disabled toilets in all terminals, while disabled car parking is also available at designated spaces. Text telephones, induction loops and a Mincom information line are available for the hearing impaired.
Passengers requiring wheelchairs should contact the individual airlines prior to travel; porters are available to help with wheelchair and baggage assistance.
Conferences & Businesses
Business and Executive lounges are available in each terminals these include the Servisair executive lounges in Terminals 1 and 3 and the No.1 Traveler Lounge in Terminal 3  which are open to all travelers for free.
Transportation from Heathrow airport
Heathrow airport provides various means of transportation to all its passengers. From central London, take the Westbound A4 and either continue to the airport site or turn onto the Westbound M4 or A30, depending on the terminal. All terminals are easily accessible from the M25. Terminal 3 can be reached via the M4 and A4, Terminal 4 is reached via the A30, and Terminal 5 can be accessed via the A30 and then the Southern Perimeter Road.
London airport transfers provides safe and comfortable airport transfers from Heathrow airport to various destinations in London. Our services are available 24*7 and we provide our services to business travelers in group as well as individuals. Pre-book our executive car services to ensure a reliable journey at affordable price.
Nearest attractions to Heathrow airport
Windsor castle, LEGOLAND UK, Hampton Court Palace, London eye, British Museum, St Paul's Cathedral, Sea life, London Zoo.