The O2 is one of the most iconic landmarks in London, which offers outstanding view of city in new way. Up at the O2, you can get an exciting experience of 90 minutes bouncy walk across the Millennium dome. Highest point O2 arena is 52m above the ground level and 380m long.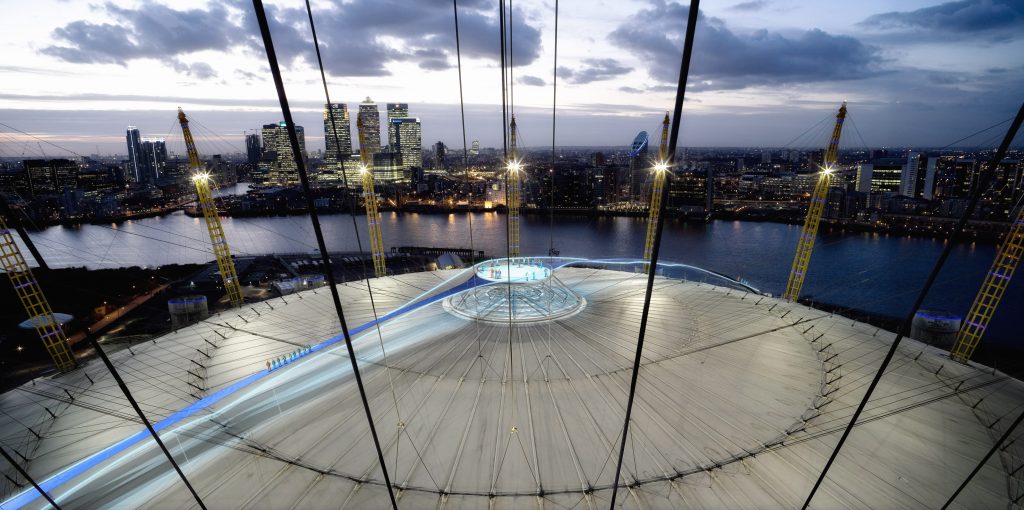 Location: The O2, Peninsula Square, London SE10 0DX
Website: http://www.theo2.co.uk/
Once you enter the attraction you will be greeted by Climb Guide and you will be accompanied by group of adventurers.  Before being fitted in climb suit, climbers need to watch a short video briefing safety.  You'll be provided a climb suit, shoes and a safety harness providing finishing touch to adventuring outfit.
Summit
After a 15 minute walk, you will reach Summit, an observation platform where you can find spectacular 360° view of East London. It is a place where you can get plenty of opportunities to click pictures. So make sure to be ready with cameras to capture skyscrapers of Canary Wharf, ArcelorMittal Orbit sculpture in Olympic park, The Shard and Emirates Air Line cable car and many more famous viewpoints that offers a unique view from Millennium dome.
Different types of Climbs of 'Up at the O2'
Original Climb
In Original Climb, an urban Mountaineering where there is no escalator, lift and no-one to carry you. It is a great outdoor experience for explorers. Up at the O2 is walkway where you'll ascend the way top at O2, on the back of dome 52m above the ground level. Explorers will be kitted with climb suit, shoes and safety harness.
For an extra pleasure in your climb and for magnificent view of cityscape lit up with bright light, take a trip in the dark at, up at the O2.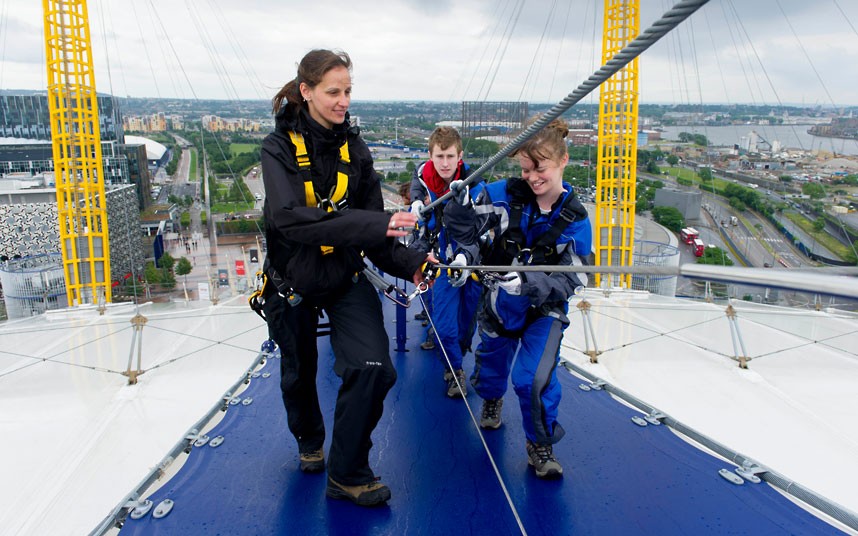 Twilight Climb
An amazing view with a magical experience, looks like the bright city lights twinkling in the night sky. Celebrate your special moment with your loved one or simply enjoy your date in different view of the city.
Sunset Climb
As the sun sets over the hinterland, you conquer the highest point of summit. Climb against the backdrop of a redheaded sky, you will fall in love with London all over again as the reddening sky reflects off the city skyline.  Make your friends and family jealous as you snap and share your sunset selfies.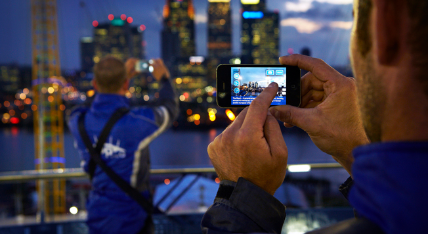 Private Climbing
Enjoy your private climb with a group of 30 explorers. Book out your slot for parties, team building, coach trips and a get together with friends and colleagues over the O2.
Become an explorer kitted with climb suit, safety harness, own guide, watch the video and show your team how it's done. Discover a different side of London, like Historic Greenwich. Queen Elizabeth Olympic Park and Canary Wharf to create your memories with your group at The O2.
Booking Information
For booking information visit official page The O2. We advise you to pre-book your tickets as on, spot tickets may charge high and queue will be more at Box office.
Opening Times
Opening timing may vary from season to season. For accurate information of opening times visit http://www.theo2.co.uk/do-more-at-the-o2/up-at-the-o2
Getting to The O2
As it is in the heart of London it provides easy access of transportation from all places of London. Our London airport transfers provides executive car services from all major airports of London. We provide our services to O2 at affordable prices for 24*7. Our fleet of car are suitable for people travelling in a group or individual. Our services are from Heathrow, Gatwick, Stansted, Southend, Luton and London City airport terminals.
Nearest Airports to O2 Arena
London City airport
London City airport is the nearest airport to The O2 , its distance is 5.5miles via A102 and approx. it takes 24 minutes to reach.
Heathrow airport
The distance from Heathrow airport to  The O2  is 64.2miles via M25 and approx. it takes 1 hour 34 minutes to reach.
Gatwick airport
Approx. it takes 1hour 31mins from Gatwick airport to The O2  via M23 as it is 33.4miles away from O2 arena
Luton airport
It takes approx. 1hour 20mins to reach The O2  as it is 54.7miles away via M25, from Luton airport.
Stansted airport
From Stansted airport to The O2  it takes approx. 1hour to reach as it is 34.9miles away via M11.
Southend airport
Southend airport is 38.2miles away, via A13 from  The O2  and approx. it takes 1hour 24 mins to reach.