A trip to London will not complete without a visit to one of the many museums and galleries in the best museum in London is The British Museum. It is a treasure trove for anyone interested in the history of mankind which has a huge collection of objects preserving culture, art, and human history. Never miss the opportunity to chart over 500 years of artistic inspiration between East and West. it is one of the world's oldest museums and has the largest and most famous collections of antiques in the world.
The museum has over 5 million annual visitors that makes the third most visited museum in the world after Louvre in Paris and New York's Metropolitan Museum. This British Museum was established in 1753 and was opened to the public on 15 January 1759. It has the collection of Sir Hans Sloane a physician and collector who desired the artefacts he acquired to last after his death. He collected 400,000 books and antiques from Greece, Rome, Egypt, the Middle East, and America.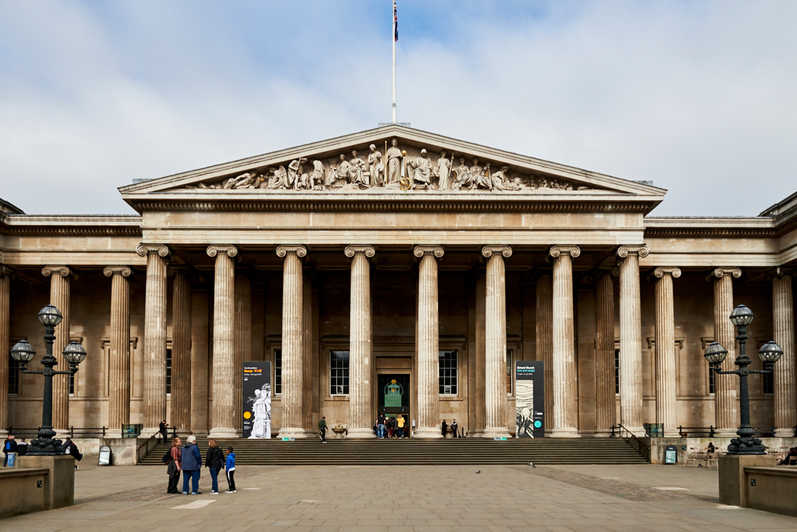 ADDRESS: Great Russell Street London, WC1B 3DG
Schedule:
Daily Open Hours: 10.00 to 17.30
Fridays: 10.00 – 20.30(only certain galleries)
Closed: 1 January, Good Friday, 24, 25, 26 December
Website: https://www.britishmuseum.org
British Museum Booking Information:
The tickets can be booked online via the official website or call on – +44 (0)20 7323 8000. The tickets will be valid only for the number of persons, the date and the entry time slot stated on its. During your visit, you must retain your tickets for the production on demand to the representatives. The tickets cannot be refunded. The exhibition ends on January 26. The ticket cost will be £14 and the member under 16s free. 
London British Museum Highlights:
The Rosetta Stone(Room 4):

This is the hieroglyphic language of ancient Egypt, this is the most popular exhibit and one of the cornerstones of modern Egyptology. 

 

Parthenon Sculptures(Room 18):

This statue was carved about 2500 years ago, these ancient Greek sculptures adorned the Parthenon, a temple on the Athenian Acropolis that once contained a colossal gold and ivory statue of the Goddess Athena. 
Hoa Hakananai'a(Room 24):

This is the main and distinctive statue of Hoa Hakananai'a by carvings that have been added to the back that is associated with the island birdman cult. 
Statue of Tara(Room 33):

This is a female Bodhisattva, Tara, a gilt bronze sculpture from Srilanka in 17th or 8th century. It was placed in the temple with a male companion named Avalokiteshvara.
Coffin of Henutmehyt(Room 63):

Henutmehyt was lived about 1250 BC who was a Theban priestess in ancient Egypt. This was covered with lavish amounts of gold and indicates that she was a wealthy figure. 
The Sutton Hoo Ship Burial(Room 41):

This was found in 1939, the many artefacts of the Sutton Hoo Burial date back to 7th century Britain. This is popularly believed to have belonged to Anglo-Saxon King. See one of the Most magnificent archaeological discoveries ever made in the UK
Lewis Chessmen(Room 40):

The lewis Chessmen was made in the 12th century and discovered buried in a sandbank off Scottish island of Lewis in 1831 which is described as the most famous chess pieces in the world. 

Standard of Ur(Room 56):

During the 1920s the Mesopotamian Standard of Ur was discovered in a tomb which is about 4600 years old. Next to the remains of a ritually sacrificed man and painstakingly excavated so as to preserve the fragile mosaic design.
Nearest airports to British Museum, London:
British Museum located at Great Russell Street London WC1B 3DG at Central London provides easy access to transportation. The nearest airports to the British Museum are:
British Museum from and to London City Airport:
London City Airport is the nearest airport to the British Museum and it takes approx. 23mins via A1203 as it is 9.1miles away from London City airport.
British Museum from and to Heathrow airport:
From Heathrow airport to the British Museum it takes approx. 36 min via A40 as Leicester Square Theatre is 18.3miles away from Heathrow airport.
British Museum from and to Gatwick airport:
To reach the British Museum from Gatwick airport it takes approx. 1hr 3min via M23 and A23 as it is 28.5miles away.
British Museum from and to Stansted airport:
From the Stansted airport, it takes approx.53mins to reach the British Museum theatre as it is 39.4miles away from M11
British Museum from and to Southend airport:
Approx. it takes 1h 10 min to reach Southend airport from the British Museum as it is 42.1miles away via A13.
British Museum from and to Luton airport:
It takes approx. 51min to reach from Luton airport, the distance from the British Museum to the Stansted airport is 34 miles away from M1.
How to reach The British Museum:
Our London Airport Transfers are providing its premium car services to British Museum from all major Airports in London including Heathrow, Gatwick, Luton, Stansted, Southend Airports. We even provide a wide range of executive cars for individual and for the business group as per the need. Our car services will be available around the clock. 
Through our website, you can pre-book our airport transfer services to ensure a safe and happy journey to the British Museum to reach your destination in time.