Planning to visit London this Christmas Holidays? Christmas is a magical time of year to be hitting London. There are striking decorations everywhere and people are in a festive mood. If you want to live Christmas in London to the fullest here are some of the very important places you need to visit.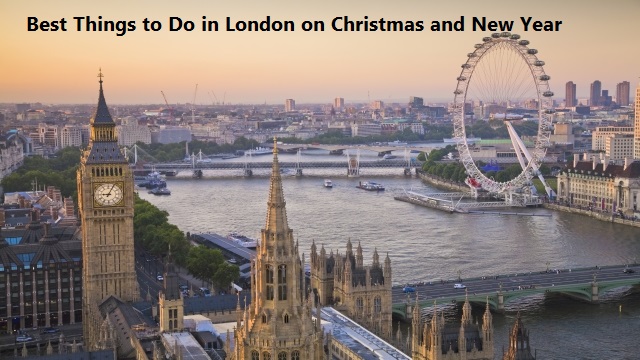 Best places to visit in London in this Christmas 2018
Christmas Markets – London has so much to offer at Christmas. There are several Christmas markets running typically, a collection of wooden huts or stalls with a variety of handmade crafts. Some of the best involve

Tate Modern – Set on the riverfront next to the popular modern art gallery. The pictorial, 360-degree views, from the top of the newly opened section, are amazing
Southbank Centre – Lots of food stalls & cultural activities for the whole family in this ever-popular location
More London – Set close to Tower Bridge with a view of the Tower of London, experience pops up wooden cabins selling all custom of treats.
Winter Wonderland – Set in Hyde Park, always successful with younger visitors as there are a variety of fairground rides as well.
Ice skating : This is a very popular seasonal activity. Ice rinks will provide help for less skilled skaters and they all have bars and cafes for those who just prefer to watch. There are temporary ice skating:

Somerset House – The building presents a magnificent backdrop, it's often used as a filming location, and the terrace offers astonishing views over the River Thames.
Tower of London – We can find different sorts of Crown Jewels and Beefeaters.
Natural History Museum – London's best-looking building and the world famous dinosaur exhibit.
Canary Wharf – A marvellous regeneration project in the East End of town.
Illuminations and Christmas Lights:

Kew Gardens, a giant Botanical Gardens set in London has an absolutely enchanting light trail which gets bigger and more popular every year.

Oxford Street always has awesome Christmas lights but can get a little busy at this time of year.  Other great places for Christmas lights are

Carnaby Street – One of the spiritual homes of the modern Sixties. This year the lights show the carnival colours of Rio de Janeiro which is the first for London.
The Strand – beautiful lights set in a big show and shopping district.
Sloane Square – exquisite lights and a great part of town for exciting shops.
Exploring London

The run-up to Christmas is full of incessant. People are rushing around doing last minute shopping but from Christmas Day itself until the New Year, London is less busy than usual so this can be the choicest time to travel.

Try some of the well-known and best tourist temptations:
Westminster Abbey

Tower of London

Big Ben & Houses of Parliament
If you want to try something a little considerably afield:

Royal Borough of Greenwich – Prime Meridian, stand with feet in different hemispheres, Maritime Museum and some of the best aspects anywhere in London.
East End – Spitalfields and Shoreditch give a buzzing, hip part of town with great shopping, it's 'Flat White' culture and street art.
Shopping – This is a good time for overseas visitors to shop, especially with the Christmas Sales starting straight after Christmas has finished.

Shopping for kids – Even if you're not looking to buy anything, the kids' shops can be great fun at Christmas for shopping etc. Some of the best include:

Hamleys – It is known as the best toy shop in the world. In-store demonstrators will keep kids amused.
Benjamin Pollock's Toyshop – This is one of the oldest toy shops in London where you look for something a bit more traditional.
Lego Store – It's the world's largest Lego store has just opened in Leicester Square.

Shopping for adults – The well-known shops on Oxford St will be busier than usual. This gives good reason to try some of the independent and quaint shopping areas:
Burlington Arcade – situated on Piccadilly –exclusive shops in a beautifully styled arcade.
Duke of York Square – just off the King's Road Chelsea – an eclectic mix of smaller shops as well as Saatchi Gallery.
Seven Dials – just North of Covent Garden, a wide range of boutiques, cafes and restaurants.

Did you reach London and waiting for the cab? Come on! London Airport Transfer Premier car service provider is here to help you pick from any London Airport to your destination. We provide you pre-booking service and also has 24/7 customer service.