Olympia London is the UK's largest covered show centre is an exhibition and conference centre, which also host numerous events. It is positioned at the heart of West Kensington, London, England. Olympia Lonodon is built in 1886 and is previously known as National Agricultural Hall which then changed as Olympia. This has an incredible 6,70,000 sq feet which can handle up 4000 to 10,000 capacity at a single time. Never miss visiting Olympia London. London Airport Transfer is there to support you to reach Olympia London from all the London airports.
Book our London Airport Transfer services for a safe and comfortable ride to and from all major London airports to the Olympia London.
Location: Hammersmith Rd, Hammersmith, London W14 8UX
Website:  https://olympia.london/
Olympia London is the venue home to a range of international trade and consumer exhibitions, conference and events. The structure was built by using 1200 tonnes frames made of iron and 2500 sheets of quarter-inch-thick glass which is at the height of 115ft. Olympia London is the place where it can handle conference, events and also exhibitions. Everything will be well-organised along with fabulous reception and registration for delegates. 
This is one of the first choices for public shows, trade shows, events, conferences and any other commercial events with a great environment. This venue is a part of 2 ha campus which handle up to 4000 to 10000 capacity at a single time. Each conference centre is perfect for 250 to 600 delegates. With a dedicated auditorium, five break-out rooms and exhibition space, its multiple areas can be tailored to your specific requirements. A conference centre can have a space of 2,188m2. The space available for the exhibition is 1,768m2. The Olympia can host more than 200 events a year.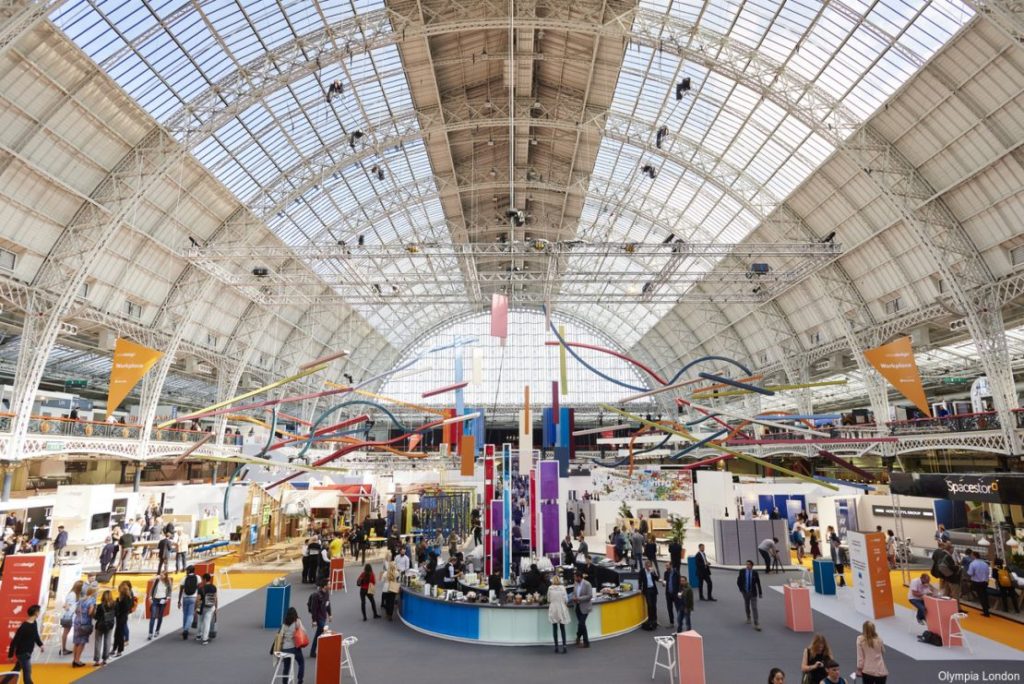 What's on in Olympia London?
Most of the calendar is taken up by public events, conferences, exhibitions and many events that are opened for public members. Olympia London events include Top Drawer, Packing innovations, The London Dentistry show, Health Optimization Summit, Plasa, Betting on Sports, 100% design, National Wedding Show, Nursing in Practice, Romance Author and Reader Event all these are going to held in September month. For more details about all the events like public, trade and the calendar of Olympia London, visit the official page of Olympia London.
For more information about the events calendar of Excel London, visit the official page of Olympia London.
Restaurants Nearby Olympia London
At Olympia London, you can have delicious food. Here are some of the well-known brands of restaurants, bra and eateries, where you can experience the vibrant and enhanced visitor experience at the venues. The guests of Olympia London are greeted with the various food of their wish even there are multiple restaurants of their locality like French, Indian, Italian, British, etc.
Restaurants nearby Olympia London are listed here:
Hotels Nearby Olympia London
Nearest airports to Olympia London
Heathrow airport: It takes nearly 27 mins from Olympia London to Heathrow airport, which is at a distance of 12.0 miles via m4.
London city airport: It takes 1 hrs 7 mins from Olympia London to London City airport via A1203 and it is12.6 miles away.
Southend airport:  It takes 1 hrs 47 mins from Olympia London to London Southend airport via A13. It is45.2 miles away
Gatwick airport: It takes 1 hrs 3mins from Olympia London Gatwick City airport at a distance of 52.0 miles via m25
Luton airport: It takes nearly 1hr 1 min from Olympia London to Luton airport, which is at a distance of 36.2 miles via m1.
How to reach Olympia London from London Airports
It is located in the heart of London; it can be easy access to public and private transportation. Our London Airport Transfers provides a safe and convenient ride to Olympia London from all the major London airport terminals. We offer executive airport transfer services around the clock at a great value to our customers. We provide services for all types of meeting or events at Olympia London. We even offer pre-book with our airport transfers to ensure joyfully ride to Olympia from all major airports of London.