Trafalgar Square located at the heart of Capital, which is the heart of the Nation and at one time the heart of Empire, which controlled three fifth of the world. It is one of major tourist attraction in London because of its rich history. There is saying that visit to London is incomplete without exploring Trafalgar Square.
Location: Trafalgar Square, Westminster, London WC2N 5DN
Website:  http://www.trafalgarsquare.com/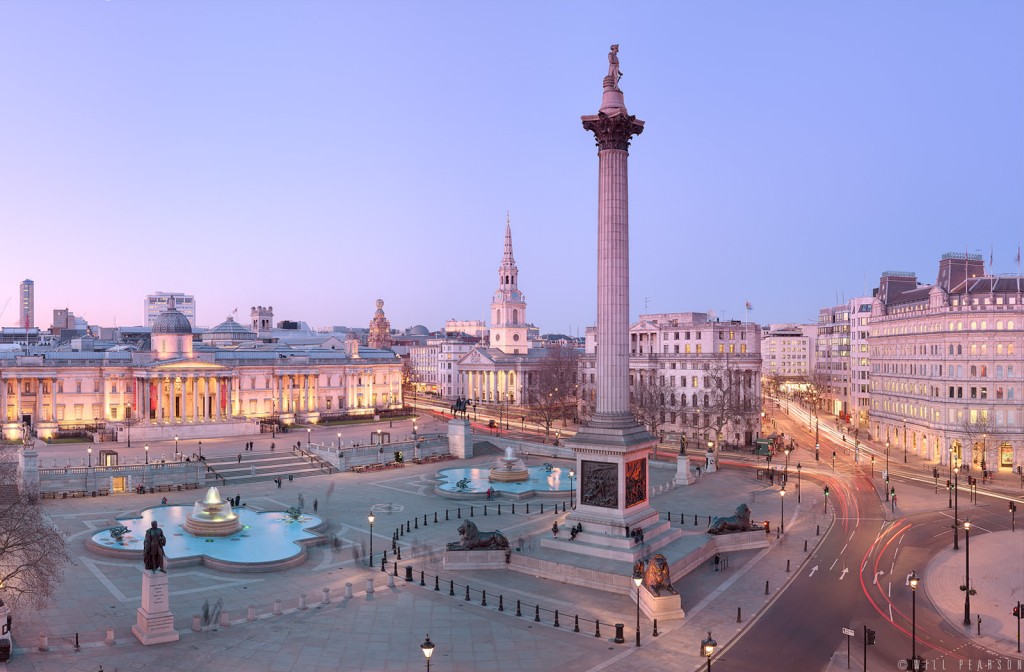 Trafalgar Square- Around the Square:
Around Trafalgar Square, there are many important statues and museums with historic features which includes Nelson's Column, National Gallery, St. Martin in the field, and Fourth Plinth, world's smallest police phone box and two fountains within the square.
Nelson's Column:
At the center of the square a column is erected which is 50 meters high monument that overlooks the square's fountains and bronze relief, cast from French cannons and depicting Nelson's Victories at Trafalgar war. It was refurbished in 2006.
National Gallery:
To the North of the Square, a building overlooking is the National gallery which was built in 19th century with 38 paintings and now it holds largest collection of paintings i.e.. more than 200,000 Portraits. A changing roster of exhibitions take place at the gallery throughout the year with works from classic painters and contemporary artists.
St. Martin in the Fields:
To the north-east is the church of St. Martin. It is on site since 13th century. The present building is completed in 1729 by James Gibb. Its magnificent Corinthian Portico has become the model for Colonial Style church in US.
Admiralty Arch:
To the south-west, admiralty arch with the mall leading to Buckingham Palace is there. It is a triple archway designed in 1911 with great procession honouring Queen Victoria. Only two side gates are opened and the central gate is opened for royal processions only.
Smallest Police Phone Box: 
To the south- east of the square, a smallest phone box was installed in 1926, so that officers can keep an eye on large gatherings and protests. But these days it is closed and is used as a storage room.
Facts about Trafalgar Square:
It is owned by the Queen right on the crown, as a part of Crown estate ad. It is managed by Greater London Authority.
The Centre piece, Nelson's Column at Trafalgar square was built to honour Admiral Haratio Nelson, who led to victory of Trafalgar War.
The pedestal is decorated with four Bronze panels, each with 18 feet square, which were cast from captured French guns.
It used to be home of thousands of feral pigeons and its popular activity was to feed them but it made them eve more pest. So in 2003, London Mayor Ken Livingstone declared a war on them and banned feeding them.
Every Year Christmas tree is placed in the center of the square. It's the same tree every year, a Norwegian Spruce, which was gifted by Norway in the honour of British Commitment to Norway, during World War II.
Events:
Trafalgar Square is not just Nelson's Column, Fourth Plinth, but it is also an array of special events throughout the year that includes cultural celebrations, commercial events, rallies, demonstrations, filming and photographic shoots and many art exhibitions, which proves an attraction for travellers across the globe. Café at Trafalgar square can be used for refreshments.
Nearest airports to Trafalgar Square:                                 
London City airport:  London City airport is the nearest airport to Trafalgar Square which is 8.7 miles away and approx. takes 45mins.
Heathrow airport:  From Trafalgar Square to Heathrow airport, it takes approx. 56mins to reach, as it is 19.3 miles away from Heathrow airport.
Gatwick airport: It takes approx. 1hr 30mins, to reach Trafalgar square from Gatwick airport and it is 28.6 miles away.
Luton airport: To reach Trafalgar square, it takes approx. 1hr 23mins from Luton airport and it is 33.5 miles away.
Southend airport: It takes approx. 1hr 53mins to reach Southend airport to Trafalgar square and it is 41.4 miles away.
Stansted airport: From Stansted airport to Trafalgar Square, it takes approx. 1hr 30mins to reach as it is 38.9 miles away.
Getting to Trafalgar Square:
Trafalgar Square's central position makes it easily accessible from all major airports of London. Our airport transfers assures a comfortable and hassle free journey to Trafalgar square. Advance booking of our Executive car services can ensure to have a comfortable and joyful journey.