Have you wondered what London looks like from above?? Well wonder no more now you can see yourself!! The View from the shard is the premium visitor attraction at the top of Western Europe's tallest building and London's newest landmark, The Shard.
Location: The Shard, Joiner Street, London SE1
Website: The View From The Shard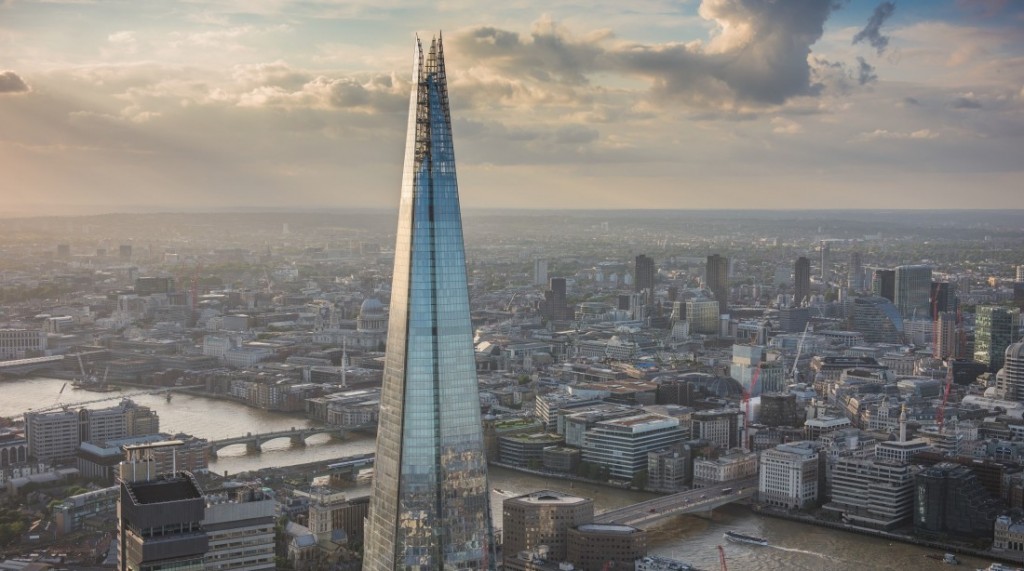 Designed by Master Architect Renzo Piano, the shard redefines London's Skyline and has become a dynamic symbol of London. At a height of up to 800ft or 244m. The View from the shard offers spectacular views over London for up to 40 miles. Twice as high as any other vintage point in the city. It is the only place where visitors can see entire city at once. More insights on 'The Shard' is available here.
Booking Information:
Price: Pre-booked tickets cost £30.95 for adults or £24.95 for children. A limited number of tickets are made available each day. Under-4s free but still need to be pre-booked and in possession of a ticket. Tickets can be booked through The View from the Shard website.
Opening Hours:
Opening times do vary on occasion depending on the events that are taking place so please do check the website before you visit the shard .
1st April –  24 October 

Open daily 10am – 10pm (last entry 9.30pm)
25 October – 31 March
Sunday to Wednesday 10am – 7pm (last entry 6pm)
Thursday to Saturday 10am – 10pm (last entry 9pm)
The Shard London – Layout:
Lobby: (floors 0 and 1)
Office space: (floors 2 – 28) – according to the Financial Times (5 July 2012) the going rate is £50-£55 per square foot
Service Floors 29 – 30 service floors
Restaurants (floors 31 – 33) will have 29,000 sq ft of international restaurants, centred around a triple height atrium.
Shangri-La Hotel (floors 34 – 52) The 195 bedroom five star Shangri-La Hotel and Spa, with 200 luxuriously appointed rooms across have 192,000 sq ft
A spa (floor 52) This is a part of the hotel and will have panoramic views over London
Luxury residences (floors 53 – 65 (186 metres to 224 metres)) – some of these will take up an entire floor and are likely to cost up to £50 million. The Financial Times has reported that these will not be marketed for a few years as the developer wants "the brand of the building to be established first"
Service Floors (floors 66-67)
Viewing galleries (floors 68 – 72 with the highest being at 244 metres)
Servicing Floors (floors 73 – 74)
Floors 75 to 87 are within the spire. They will not be occupied but used to radiate away the heat generated by the building.
Best Time to View London from The Shard:
Honestly night time is best time to visit, even with the clouds above the city lights come alive and a mesmerizing view appears. There's something fascinating about seeing the city at night. From April 2016 enjoy a glass of bubbly at London's highest champagne experience. Available daily from midday until 30 minutes before closing. Soft drinks also available. Champagne will only be served to adults (18+). As well as this, there are two shopping boutiques at 69 floor where you can pick up your souvenirs from your trip to London from the highest shop in the city.
Which airport is closest to The Shard London?
London City airport: It is the closest airport to The Shard. From London city airport to London Shard it takes 25 minutes and it is 7.3 miles via A1203.
Heathrow airport: Approx. it takes 52 mins to reach The Shard from Heathrow airport as it is 22.3 via M4
Stansted airport: It is 37.4 miles far from The Shard and it takes approx. 52 minutes to reach The Shard from Stansted airport.
Luton airport: From Luton airport to The Shard it takes approx.1hr 8mins to reach and it is 35.0 miles away from The Shard.
Southend airport: It takes approx. 1hr 10mins to reach The Shard from Southend airport, it is 40.1 miles far from The Shard .
Gatwick airport: Gatwick airport is 49.9 miles approx via London Orbital Motorway. it takes 1hr 11mins to reach The Shard from Gatwick airport.
Our London Airport Transfers provides their services to reach The Shard London from all major airports of London. Providing 24×7 Executive car services at affordable price.