London's Gatwick airport is second largest international airport in United Kingdom and it is third busiest airport in the world and has flights connected to all points around the globe. Gatwick is located at 45km (28miles) away from south of London and it handles nearly about 40.3 million passengers ever year. Gatwick airport plays a key role in airports of London as it one of the airports which can be easily modify or Expand to meet the Changes and requirements. Gatwick airport is the busiest single run way airport in the world although it has two runways it can only operate one at a time, it has a capacity of maximum 55 aircrafts per minute.
Address: West Sussex, RH6 0NP, United Kingdom
Email id: enquiries@gatwickairport.com
Website: www.gatwickairport.com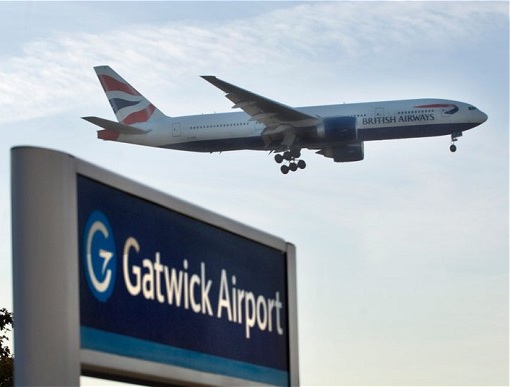 Gatwick North and South Terminals:
Gatwick has two terminals North and South and two runways. South terminal is the oldest terminal and commenced its operation in 1958 and North terminal started its operation in 1988. Approximately 16.5 million passengers and 120,830 flights go through south terminal and 17.7 million passengers and 121,281 flights go through single run way.
Transfer between two terminals:
There is a free 24-hour shuttle train which links the North and South Terminals. And journey time between two terminals is 2minutes.
Help desk:
Each arrival Hall has an information desk where multi lingual staff can deal with enquires 24-hours a day.
Facilities at Gatwick airport terminals:
Gatwick airport covers all the facilities required and ensures that you spend your time at airport hassle free and comfortably.
Money: Bureaux de change facilities are available at both the terminals at departure and arrival areas.
Food: There are numerous restaurants, bars and cafes near both the terminals for the passengers at pre and post security.
Communication: Public telephones are located throughout the Gatwick airport. Free Wi-Fi is available for passengers for first 45mins of use and 24-hour internet cafes are available at South terminal and post boxes are located at both South and North terminals.
Luggage: A left luggage facility is available at both the terminals and a luggage trolley is available at £ 1 and a porter service available at baggers reclaims areas. A lost property can be operated by the Excess Baggage Company.
Shopping: There are many shop inside the Gatwick airport which includes fashion boutiques, souvenir retailer and news agents. Several duty free outlets are available for passengers leaving the EU.
Other facilities: Gatwick airport provides many other facilities which include prayer rooms, baby changing rooms, showers, children's play area and medical centres offering vaccinations.
Facilities for Disabled: Special assistance is available for disabled passengers. There are ramps and lifts where ever necessary, disabled toilets and reserved seating for special assistance. Wheel chair and other baggage facilities are provided on request. Person who requires further assistance can inform concerned airlines before travelling.
Conferences and Business:
There are extensive business facilities and meeting rooms at No 1 Lounge at north terminal and at the south terminal. Both offers similar services and it offers one additional executive lounge as well as number of lounges dedicated to specific airlines which includes telephone, fax, photocopy and other secretarial services.
Transportation from Gatwick Airport:
London Gatwick's North and South terminals provides various means of transportation. Gatwick airport is well located for onward travel and there is easy access to M23 and A24 and it is nearer to south coast of London. It provides both private and public transportation facilities 24-hours a day from both the terminals.
If you are looking for private airport transfer services from Gatwick airport to various destinations in London, then hire a car in advance from London airport transfers which provides safe and reliable journey with executive car services at affordable prices from both North and South terminals of Gatwick.
Nearest attractions to Gatwick airport:
Crawley Museum, Gatwick Aviation Museum, High beeches Garden and County Mall .