Backyard Cinema is a pop-up and theatrical cinema with a true independent feel that delivers a variety of cinematic experiences in unusual locations & venues around London. At Lost world you can experience cinema like you have never seen it before. Backyard Cinema is now a roaming, theatrical, cinema that shows a wide selection of films in a variety of iconic, unusual and immersive locations both in and outdoors around London.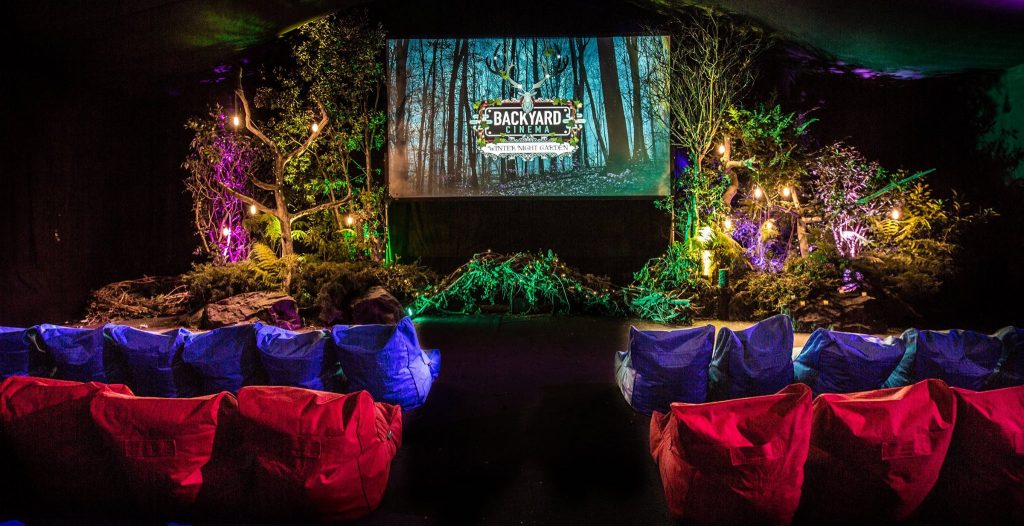 ADDRESS:  Lost world, Mercato Metropolitano, 42 Newington Causeway SE1
Website: https://www.backyardcinema.co.uk/
For fear of losing bound with the origins of outdoor cinema, Dominic Davies and his team mates have created an infrastructure that'll make Backyard Cinema more memorable than any of its competitors. Backyard cinema started in a garden watching 'Jurassic Park' projected on a bed sheet and it has hosted zombie apocalypses, 'Romeo + Juliet' with a choir and hosted a series of outdoor screenings at the famous Camden lock market.
Now their Next pop-up is lost world, a season of action movies screened in a jungle. Discover Backyard Cinema's Lost World movies which include 'Jurassic Park', 'The Hunger Games', 'Predator' and 'The Lion King'. Watch your favorite action and adventurous films in the deep venture of lost jungle where you can find beanbags, cocktails and popcorn alongside tropical plants & trees with sound effects and special surprises with your mates which gives an exceptional experience of watching movie forever. Before each screening there will also be live DJs.
Booking Information
All tickets need to be pre-purchased online at backyard Cinema website. All tickets must be exchanged at the box office on arrival.
Tickets:
Standard ticket is simply access to the brilliant movie.
Thirsty Ticket gives you a killer cocktail with your movie.
The date night ticket gets you your seats, a bottle of fizz, popcorn, ice cream & blankets, so you're all set for the perfect evening out.

Opening Hours
Monday to Friday: Doors Open 6pm, Last Entry 7:30pm & Movie Starts 8pm
Saturday & Sunday:
Show 1: Doors Open 11:00pm, Last Entry 12pm & Movie Starts 12:30pm
Show 2: Doors Open 3:00pm, Last Entry 4:00pm & Movie Starts 4:30pm
Show 3: Doors Open 7pm, Last Entry 8pm & Movie Starts 8:30pm
Hire space at Backyard Cinema
Planning for a Christmas party or special event this Christmas? For enquiry send email to hello@backyardcinema.co.uk
Nearest airports to Backyard Cinema
Backyard cinema is a best place to experience outdoor screening. It provides an easy access of transportation. Our London airport transfers provides executive car services to backyard cinema from all major airport terminals. We provide our services 24*7 at affordable prices. Pre-book our premium car services to ensure an enjoyable ride.
London City airport
It is nearest airport to Backyard cinema and is 10.7 miles away via A200 and it takes approx.  46 min.
Luton airport
Approx. it takes 1h 18 min to reach Luton airport from backyard cinema as it is 35.1 miles away via M1.
Southend airport
To reach southend airport from backyard cinema it takes approx. 1h 29min as it is 41.4 miles away via A13.
Stansted airport
It takes approx.  1hour 7min to reach from Stansted airport, the distance from backyard cinema to Stansted airport is 38.2 miles away from M11.
Gatwick airport
From Gatwick airport to backyard cinema it is 26.8 miles away via M23 and A23 and approx. 1h 21min
Heathrow airport
To reach backyard cinema from Heathrow airport, it takes approx.1hour 3min as it is 21.5 miles away via M4.