London SE1 is the only head district and is closest to London. It covers an outsized space of Central London on the South Bank of the Thames River taking in areas like Southbank, Southwark and Bermondsey. The Southbank is a small portion of riverside and it's a major tourist district starting from London eye within the West to the design museum within the East. Popular attractions for sightseeing are there, Landmarks and attractions like Tower Bridge, London Dugeon are major tourist attractions in Bermondsey.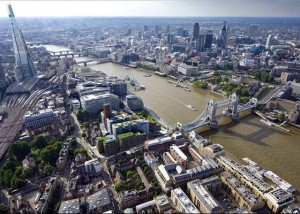 Bermondsey Airport Transfers:
Book now in advance, for safe, comfortable and hassle-free airport transfers. Various routes and time required to reach Bermondsey from various London airports are as follows:
Heathrow Airport to Bermondsey
The distance between Heathrow airport to Bermondsey via M4 route is 22.8 miles and it takes 47 mins to reach Bermondsey.
Gatwick Airport to Bermondsey
The distance between the Gatwick airport to Bermondsey via M23 is 29.3 miles and it takes approximately 1 h 4 min to reach there.
Stansted Airport to Bermondsey
The distance between Stansted airport and Bermondsey via M11 is 37.2 miles and takes approximately 49 minutes.
Luton Airport to Bermondsey
The distance between the two via M1 is approximately 35.7 miles and it takes around 1 hour and 3 Minutes to reach Bermondsey.
London City Airport to Bermondsey
The distance between London city airport to Bermondsey is 7.1 miles and it takes around 20 minutes to reach Bermondsey.
Southend Airport to Bermondsey
This distance between Southend airport to Bermondsey via A13 is 39.7 miles that needs 1 hour and 9 minutes.
Attractions in SE1
Some of the Most popular tourist attractions are the Southbank Centre, the Royal National Theatre, BFI Southbank, the London Film Museum, The sea life Aquarium, the Iconic London Eye and the Tate Modern art gallery. With theatre being a strong feature of Southwark's history you can visit Shakespeare Globe theatre and recent theatres like Menier theatre and Southwark Play house.
Various Attractions in Bermondsey:
Borough Market is one of the most renowned food market in London. It provides all sorts of British as well as international produce. Apart from the sheer quality of the food, Borough market is also the place to know about people.
Imperial War Museum London talks and displays about the experiences of modern war i.e. from World War 1 to today's conflicts. The museum is open every day from 10 am to 6 pm.
London Dungeon is the place where all cast of theatrical actors, scenes, special effects and rides are brought together that delivers an amazing and exciting experience that caters all of your 5 senses.
Tate Modern is a famous art gallery of UK that holds exhibition of International modern and contemporary art forms. The gallery is open throughout the year except from 24th to 26th December.
View of theShard is the highest point of viewing from Western Europe's tallest building. One can get a look of capital's 1000 years of history from a single place. Perfect place to enjoy the complete city view.  
Hotels in SE1:
Among various hotels present in SE1, you can get the hotel booked as per your budget range. Some of the popular choices of hotel are as follows: